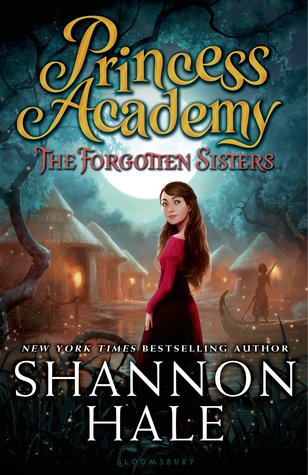 A couple of months ago I was browsing Goodreads when I discovered that

Shannon Hale

had written a third Princess Academy book,

The Forgotten Sisters

. I immediately put it on hold, as well as the first two books.
The story takes place about 6 months after

Palace of Stone

ends. After spending a year in Asland, living in the palace, Miri, the other mountain girls, and Peder are about to start their journey home to Mount Eskel when Miri is summoned by the King. He asks , or rather orders, Miri to be the Princess Academy tutor to three sisters, cousins to the royal family, in a distant swamp land. Miri wants to return home, but quickly learns that in order to save Mount Eskel she must agree to be the tutor.
After arriving Miri realizes that life in the swamp is quite different than the city and her beloved Mount Eskel. But Miri is a fighter and able to adapt to new circumstances. Miri r that before she will be able to teach the girls anything she needs to find a way to take care of their basic needs and figure out why they have been left desolate.
I did enjoy it and would recommend it, but I think I would have enjoyed it even more had the first two not been so fresh in my memory. Miri felt like a completely different character than the first novel; she wasn't as witty, funny, or as charismatic; and the writing wasn't quite as whimsical. So, as
part of a series, for me, it failed, but on it's own it was well done.
If you're a fan of Shannon Hale I think you'll enjoy it too.